RealResponse, the nation's leading student-athlete risk management solutions company, announces the addition of Samantha K. Huge as Executive Director of Collegiate Accounts.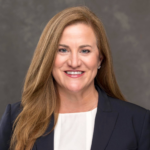 Huge is a respected industry veteran and joins RealResponse after more than 20 years of NCAA Division I athletics experience, most recently as the Director of Athletics at William & Mary. She also served in senior leadership positions at Texas A & M University, the University of Delaware, Georgetown University and Wake Forest University. Samantha served throughout her career on several conference and NCAA committees, most recently as a member of the NCAA Division I Council and the Division I Football Oversight Committee. She is currently a member of the Board of Directors of WeCOACH, the premier membership organization dedicated to the recruitment, advancement, and retention of women coaches of all sports and levels.
"We are truly honored to have a respected industry leader like Samantha join RealResponse," said David Chadwick, Founder of RealResponse. "Throughout her career, she has demonstrated a passion for the student-athlete experience and worked tirelessly to ensure coaches and administrators were equipped with the tools necessary to deliver on that experience. Samantha will bring a new level of expertise to our clients, both from her vast experience within collegiate athletics as well as having utilized and seen the benefit of RealResponse as a Director of Athletics, Sport Supervisor and Senior Woman Administrator on a number of Division I campuses. We are excited to have her energy and expertise as we grow RealResponse in the collegiate space, and leverage her knowledge to make sure that we are delivering exceptional value to our current and future partners."
Huge earned her law degree at Campbell University after earning her Bachelor's Degree from Gordon College, where she was a member of the varsity women's basketball team.
"I am thrilled to join the RealResponse team and to help build on David's phenomenal foundation of success," said Huge. "As the enterprise of college athletics continues to adapt to the current and ever-changing climate, the commitment to student-athlete well-being and experience is critical – perhaps more than ever before. RealResponse is at the forefront of addressing this need by equipping institutions with an essential solution. I have personally seen the positive impact that RealResponse can have on a department and I am humbled to be a part of the team."
What They Are Saying About Samantha K. Huge

Ron Wellman (Former Director of Athletics, Wake Forest University) 
"Samantha is a perfect fit for RealResponse. She used the software as a Director of Athletics and as a Senior Woman Administrator and relied upon it for valuable feedback that served her student-athletes, coaches, and administrators well. Samantha believes in the value of RealResponse and will be able to communicate the benefits of it to ADs and athletic department administrators across the country. David Chadwick and Samantha will be a great team in helping college athletics departments, their personnel, and student-athletes through RealResponse." 

Brian Baptiste (Director of Athletics, La Salle University)
"Samantha is a tremendous addition to the RealResponse leadership team. Her deep understanding of the complexities within an athletic department from her over two decades of experience at numerous institutions offers the unique perspective and insight that will certainly prove to be invaluable to RealResponse clients as we all navigate through the changing landscape in athletics. Samantha's commitment to fostering meaningful relationships, her customer service driven and collaborative approach to her work make her the ideal fit for this role. The combination of her qualities will help ensure that RealResponse is well positioned and equipped, through their services and product offerings, to see continued growth into the future. "

Pat Kraft (Director of Athletics, Boston College)
"RealResponse has been an incredible partner for Boston College and for so many other schools around the country and adding Samantha Huge to its team is a tremendous move. I have known Samantha for several years as a colleague and friend and her professionalism, integrity, work ethic and network will prove to be invaluable to RealResponse. I am excited for Samantha and for our partner and can't wait to see what the future holds in store for both."  

Tanya Vogel (Director of Athletics, George Washington University)
"RealResponse has landed a 5-star recruit in Samantha Huge.  With decades of experience serving student-athletes and coaches, Samantha is the perfect person to enhance the connection between RealResponse's services and their campus partners.  I'm excited for the entire RealResponse team and their clients!"

Patti Phillips (Chief Executive Officer, Women Leaders in College Sports)
"We are thrilled to hear Samantha Huge has joined the RealResponse team as the Executive Director of Collegiate Accounts. Samantha brings a wealth of industry knowledge and genuine passion for developing and mentoring others to the RealResponse team. Both David Chadwick and Samantha have been committed supporters and champions of Women Leaders in College Sports, so we are thrilled to see the two have aligned and will work together to provide athletic departments with the tools and resources needed to support the student-athlete experience at the highest level. "