Diversity is more than a buzzword—and university athletic teams can serve as examples for the entire campus and community. Here's how you can help your teams make greater strides toward diversity, equity, and inclusion.
The past year was momentous. The unjustified killings of George Floyd, Breonna Taylor, Ahmen Arbery, and the rise of anti-Asian American hate crimes have led to greater engagement with issues of racial justice—especially by student-athletes. Tragic events involving systemic racism, racial inequality, and injustice have revealed inherent biases in major institutions around the world. While colleges and universities have historically been seen as bastions of inclusion, many are finally taking actions to foster diversity, equity, and inclusion as well as increase accountability for social injustices.
Tapping into the very essence of college athletics provides a rich opportunity for universities to demonstrate how diversity, equity, and inclusion can pave the way for success, both on the field (and court and pool and floor) and off.
But where to start? Here are six resources to eliminate bias, demonstrate the merit of diversity and provide students, faculty, and staff a more equitable environment in which to thrive.
Article: Why diversity matters
Cohesion, or coming together, is the bedrock of team structure; the more diverse the team is, the more vibrant the possibilities are. To understand why diversity in teams is important, begin with the article "How Diverse Teams Produce Better Outcomes," by Sian Beilock, President of Barnard College.
Beilock posits that group size matters but not in a proportional way. She makes a case for why it is, in fact, smaller teams—like the 15-20 student-athletes on a sports team—that are the true "disruptors"—the teams whose very actions and makeups speak volumes. Once the premise is understood, it becomes clear why athletic teams, which hold a lot of stage time in universities, are great microcosms of how overcoming inherent biases and encouraging diversity can lead to monumental success.
In short: Your athletics teams can serve as a lesson for larger campus organizations—and the entire campus itself.
Article: Big bias on the big court
The most lucrative and showstopping events in college sports are the NCAA men's and women's basketball tournament in March. Unfortunately, the events also carry a history of inherent bias, especially in how the games are announced. In 2019, over 20 million people tuned in to the tournament; that's a massive number of viewers exposed to a bias.
The article "March Madness and College Basketball's Racial Bias Problem" by Steven Foy and Rashawn Ray (Brookings Institute) addresses the issue by looking into the everyday language used by commentators to refer to players of color. They call attention to how commentators tend to focus primarily on the raw physical athleticism of darker-skinned athletes, on the one hand, and the mental and strategic skillsets of lighter-skinned players on the other.
The article provides a thorough framework to start conversations with staff members about how they talk about team members of different races, genders and even ages.
Article: Diversity and performance
Several universities and colleges have begun the challenging task of addressing and correcting inherent racial bias in sports. A blog on the University of Ohio's website—"How Does Diversity Affect the Performance of Sports Teams?"—leaps out the gate asking a direct question and providing a network of resources. It explores both the advantages and disadvantages of diversity in sports, with research for both sides (is there such a thing as too much diversity?).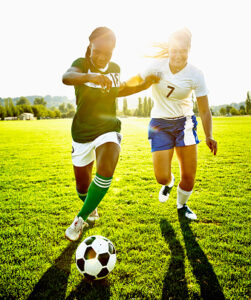 One link in particular—a Washington Post article, "Diversity Is Good for Team Performance in Soccer"—provides a case-study-like approach and serves as a perfect example of how diverse team building has led to increased success in college women's soccer.
Videos: Conversation starters
Emmanuel Acho's video series, "Uncomfortable Conversations with a Black Man" has been a viral hit since it started amid the numerous racial injustices of 2020. Acho, a former NFL player for the Cleveland Browns and Philadelphia Eagles, speaks with notable public figures, mainly white, in a frank and candid way about racism. As he puts it, he provides a "safe place to have the uncomfortable conversations about race that many white people have never been able to have."
One noteworthy video about racism in sports features an interview with NFL commissioner, Roger Goodell, who speaks about his support of players who chose to protest the national anthem, and how the NFL can help fix the current racial climate. Other videos include an interview with Olympic Gold Medalist, Lindsey Vonn and her partner, NHL player P.K. Subban about the stereotypes they face as an interracial couple. All of the videos are bound to spark conversations and internal thinking about how we treat student-athletes from different backgrounds, races, and cultures.
Online training: Taking a course to take action
Some companies provide online training on diversity and inclusion tailored to a college or university's various organizations. EverFi, an education-improvement company, shares its diversity expertise in its "Online Diversity Training for Your Campus." The training package is a pragmatic approach to highlighting the importance of understanding unconscious bias and rooting it out to open the doors to better inclusion.
The web resource is also a useful tool to help with LGBTQIA+ community consideration and allowing students, faculty and staff to thoughtfully consider their approach to engagement.
Podcast: Digging at the roots of inherent bias
On an episode of the popular APA-produced podcast "Speaking of Psychology," host Audrey Hamilton talks with Dr. John Dovidio, Carl I. Hovland Professor Emeritus of Psychology and Professor Emeritus in the Institute for Social and Policy Studies and of Epidemiology, about how subtle or unconscious racism plagues almost every institution on the planet.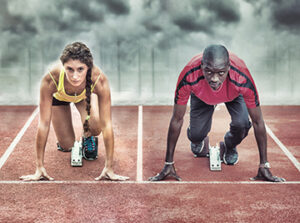 They delve further into the psychologies of bias, explaining how trauma and victimization cycles play a role in fundamentally stirring up unconscious or inherent biases. It's a vastly important sub-topic to consider, as large swaths of human psychology need to be considered to strike at the root of bias in college athletics.
And this is especially explored with strategies and tools to discover unconscious or inherent bias in various digital spaces and social media—where a lot of students are active in their free time.
They state that much of inherent racial bias is unconscious, and some of the first steps to improving a collegiate athletics team's cohesive success include recognizing those biases. The above resources can facilitate that conversation, and these frameworks and toolkits help provide contextual explanations and actionable next steps to these complicated subjects.
Let's get going. As a team.