Clemson University First to Implement The Platform For All Students, Faculty and Staff
CHARLOTTE, N.C. – Oct. 26, 2022 — RealResponse, the award-winning safe and secure feedback, monitoring and anonymous reporting platform today announced an expansion of its core offerings, with a first of its kind program with Clemson University offering the RealResponse platform to all University students, faculty, and staff. Clemson has been using the platform as a first adopter to all its student-athletes since 2016.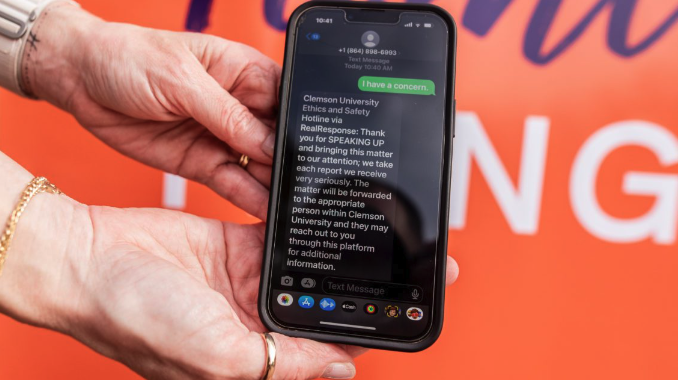 "Encouraging and implementing safe environments for everyone at Clemson is an utmost priority for us, and this platform helps Clemson support those endeavors," said Tracy Arwood, chief ethics and compliance officer and associate vice president at Clemson University. "The addition of RealResponse to Clemson's existing reporting channels provides yet another option to encourage the reporting of misconduct by ensuring that people have a variety of pathways to make a report."
"While our work in athletics continues to grow and expand with National Governing Bodies, teams, leagues, colleges and universities, having the opportunity to now work with the entire universe of students, faculty and staff at Clemson will give us the ability to exponentially assist literally thousands of others," said David Chadwick, RealResponse founder and CEO. "We are proud that Clemson, a longtime advocate and supporter of our platform, is again first-in as a campus-wide partner and we expect other schools to follow."
This expansion follows other recently announced athletic-specific partnerships with Major League Baseball, USA Swimming, and many others in recent months, making 2022 a landmark year of growth for RealResponse.
About RealResponse
Originally founded in 2015 and then expanded in 2020, RealResponse is a partner with more than 100 colleges and universities as well as with the Denver Broncos and Kansas City Chiefs of the NFL, the NFLPA, USADA, the NWSL and several member clubs, and a growing number of governing bodies including USA Track and Field, USA Swimming, and USA Gymnastics, giving more than 150,000 athletes and staff the ability to anonymously share feedback and concerns in a safe and secure manner. RealResponse is an online platform that allows for real-time reporting, surveys, and as a document repository. Organizations can also benchmark metrics to peer and national averages to identify areas of competitive advantage and vulnerability. Additional partnerships with international organizations, colleges and professional sports properties are expected in 2022. In 2021, RealResponse was recognized by the Charlotte Business Journal as one of the "Fifty Most Innovative Companies in the Region." For more information about RealResponse, visit http://www.realresponse.com.
Clemson University: https://news.clemson.edu/clemson-becomes-first-university-to-offer-campus-wide-anonymous-ethics-reporting-app/